Zeelugt woman found dead
-body shows signs of strangulation, tyre marks
A Zeelugt woman was found dead at Boerasirie, East Bank Essequibo on Friday evening and her body exhibited signs of possible strangulation and that she might have been run over by a vehicle.
The police are awaiting an autopsy to confirm the cause of death of Pradika Persaud, 26, also known as 'Simona' of Lot 532 Zeelugt, East Bank Essequibo.
Persaud's body was found on the East Bank Essequibo roadway at approximately 11.30pm on Friday.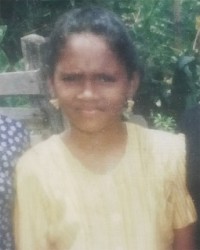 According to 'D' Divisional Commander Ian Amsterdam, Persaud's body bore a mark that suggested that she might have been strangled and there were also tyre marks on her.
Premchand Persaud, Pradika's brother, said that he last saw his sister on Friday afternoon at 3pm bracing an electricity pole in the community.
He explained that she resided at various places because her family disapproved of her lifestyle.
"She don't hear" exclaimed Premchand, as he explained that his sister would frequent rum shops in the village and binge drink with friends. The emotional man said he was at a loss as to the reason his sister met what appears to be a gruesome death.
Premchand said when he identified his sister's body, her throat appeared to be slit and the zip on her pants was open.
Other relatives, including the dead woman's ailing grandmother, shared the same sentiments as Premchand and called for justice to be served.
Amsterdam mentioned that the police are awaiting the autopsy to declare whether Pradika's death was a road accident or a murder, in light of the tyre marks.