Cops seek further DPP advice in station burning case
The police are seeking further advice in the case against Constable Earwin Forrester and Inspector Dexter Thornton, the two ranks charged with burning the hands of a teen detainee and then attempting to pervert the course of justice, respectively.
Magistrate Alex Moore yesterday adjourned the case after the prosecution informed the court that the file had been sent to the Office of the Director of Public Prosecutions for further advice.
It is alleged that during the period May 25 and May 27, Forrester inflicted grievous bodily harm on Junior Thornton at the Sparendaam Police Station, while Thornton is accused of attempting to pervert the course of justice.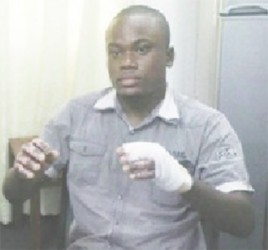 Junior Thornton, of Lot 1 Eastville Housing Scheme, Annandale, East Coast Demerara, had also stated that he was denied medical attention and food while he was in police custody.
He has alleged that lawmen soaked his hands with methylated spirits before lighting them on fire and then kept him in the lock-ups for three days before taking him to the hospital.
The teen had explained that he was walking his dogs in his neighbourhood when he was approached by police officers. He said that the officers accused him of wandering and asked him to get into the police pick-up.
However, he said he refused and he was grabbed and thrown into the tray of the vehicle.
Later the same day, he said, he was taken to the back of the police station, where one of the officers threw methylated spirits on his hands. With the help of other police officers, one of the officers started a fire and burnt his soaked hands.
Inspector Thornton is currently on $100,000 bail, while Constable Forrester was granted $125,000 bail.
Statements are expected to be filed on September 22.