Murder charge recommended for accused Crane wife killer
The office of the Director of Public Prosecutions has advised that a murder charge be levelled against Vidol Rawlins, who allegedly stabbed his wife Candy Rawlins last month, at their home.
Thirty-year-old Candy, of Crane Housing Scheme, West Coast Demerara, was discovered dead by neighbours on the morning of Friday, July 18, after her 11-year-old daughter, who was tied to a chair with her mouth taped, managed to free herself and raised an alarm.
Divisional Commander Senior Superintendent Ian Amsterdam told Stabroek News that the DPP has advised that Vidol be charged with murder.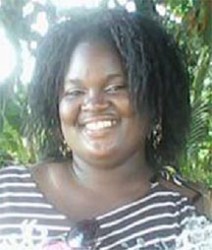 Vidol went missing after he allegedly committed the murder. Amsterdam said that Vidol is still at-large but as soon as he is apprehended he will be charged.
A post-mortem examination ruled that Candy died as a result of stab wounds to the neck.
Rawlins is survived by her daughter.