Brazilian dies in Cuyuni boat mishap, boy missing
The lifeless body of an elderly Brazilian national was pulled from a river at Dukwari, Cuyuni while a five-year-old boy is missing and presumed dead by officials following a boating accident in the said area around 14:00hrs on Tuesday.
Police have identified the man as 66-year-old Jose Jenrique Salvao De Souza of Junior Ross Landing, Cuyuni. The boy, whose relatives say he resided in Venezuela with his sister, father and mother, has been identified as Bisham Munilall Jr.
According to a police report, the two were among several persons thrown overboard when the boat they travelling in hit a rock. They were the only ones who were not found right away. Yesterday, the boy's grandmother, who lives in Charlotte Street, said she heard about the accident on Tuesday night.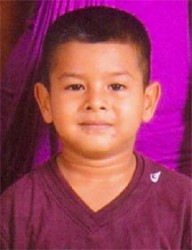 "Me nah know nothing…last night me barely get a phone call from a friend…they said aunty me want deliver a message but me nah know how fuh deliver this message, and me tell he man tell me…and then he tell me that they were going down a river and the boat hit a rock and all body find back but the boy."
"Me tell him stop, stop right deh, tell me tomorrow if he find nah tell me bout he missing, and me start shake right here." The woman said she eventually spoke with the child's father, with whom he was travelling. His mother is also said to have been on the boat. Bisham Munilall Sr, she explained, was only able to tell her that his son was still missing. After conveying that message, she continued, he never uttered another word. With increased traffic in gold mining areas there has been an increasing number of fatal river accidents.
Most Read This Week