GDF inks military aid pact with Chinese army
The Guyana Defence Force (GDF) and the People's Liberation Army of China yesterday signed a US$4.8M military aid package that will see the local army secure "non-lethal" materials from China, such as medical equipment and engineering equipment.
The signing took place at the opening ceremony of the Guyana-China Bilateral Staff Conference 2014, at the Guyana International Conference Centre.
Chief of Staff Brigadier-General Mark Phillips said the GDF was greatly appreciative of the Chinese army's continued military assistance as the two military bodies continue to work together toward strengthening relations.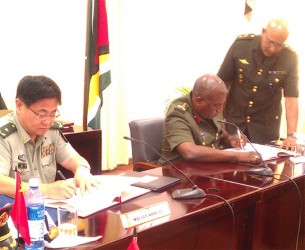 He indicated that the Chinese army was providing military assistance to the GDF for over a decade and many soldiers were the beneficiaries of technical and practical training. "This is a sustained relation between Guyana and the (People's) Republic of China," he added.
Head of the Chinese delegation, Major General Kong Li, said his army's military assistance was not affixed with "political implication and political conditions." His delegation included China's Ambassor Zahang Li Min, Colonel Zhang Ye, Senior Colonel Zhang Jin, Senior Colonel Wang Wel, Lieutenant Colonel Zhang Qian and Lieutenant Zhang Duo.
GDF Colonel Kemraj Persaud, Colonel George Lewis, Lieutenant Colonel Patrick West, Lieutenant Colonel Nazrul Hussain, Commander Gary Beaton, Major Courtney Byrne, and Major Delbert George were a part of the Guyanese delegation.