Man nabbed with toy gun near Palm Court
-charged with attempt to commit felony
Dennis Downer, who the police say was held with a toy gun in the vicinity of the Palm Court Restaurant on Main Street, was yesterday charged with awaiting an opportunity to commit an armed robbery.
Downer, 24, of 42 D'Urban Street, Lodge was placed on $65,000 bail when he appeared before city magistrate Fabayo Azore and he denied the charge.
The allegation against Downer is that on August 18, at Georgetown, in a public place, he was about to commit a felony or was waiting on an opportunity to commit a felony, that is to say, armed robbery.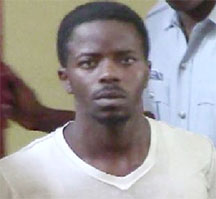 The prosecution's case is that police on a mobile patrol observed the accused acting in a suspicious manner in the vicinity of the Palm Court Restaurant on Main Street.
The court heard from prosecutor Adduni Inniss that Downer had been under surveillance for about five minutes before the lawmen approached and searched him during which a toy gun, similar to that of a 9mm pistol, was found in the waist of his pants.
The man was subsequently taken into custody.
Downer, who was unrepresented by counsel, asked the court's permission to speak but was cautioned by the magistrate against saying anything which could further incriminate him since he had entered a not guilty plea
He was granted bail since the prosecution had no objections to him being granted his pre-trial liberty.
The case was fixed to be called again on October 3 at Court One.