Attempted murder accused jailed for station escape
Miner Quincy Hoyte, who escaped from a police station where he was being held in connection with an attempted murder probe, was yesterday sentenced to 18 months in prison.
Hoyte, 24, of 270 'B' Field, Sophia, admitted that on August 21, while being in lawful custody pending investigations into a criminal charge of attempted murder, he escaped from Detective Constable Zane Williams at the Port Kaituma Police Station.
In addition, Hoyte was charged with the attempted murder of Dexter Abrams. He was not required to plea to the indictable charge, which is based on the allegation that he unlawfully and maliciously wounded Abrams on August 21, at the Port Kaituma Police Station, with intent to commit murder.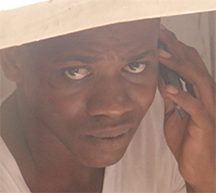 Prosecutor Michael Grant told city magistrate Fabayo Azore that Hoyte "pushed down the detective and ran out of the station." Grant, however, added that Hoyte later turned himself back into police custody.
The unrepresented Hoyte, though admitting to the charge, disputed the claim that he pushed the constable down. He said he was in hand cuffs at the time.
According to him, his shoulders "jam" Williams and she threw herself down. He, however, admitted running out of the station at this point and later returning to the station to turn himself in.
No details regarding the attempted murder charge were presented to the court.
After being sentenced for his escape, Hoyte was remanded to prison and will make his next court appearance in the attempted murder case on September 8.