CANU destroys over two tonnes of seized cocaine, ganja
Over two tonnes of cocaine and marijuana, with an estimated worth of over US$30 million, was destroyed by the Customs Anti-Narcotics Unit (CANU) yesterday.
The nearly ¾ tonne of cocaine and two tonnes of marijuana were doused with gasoline and set on fire until the drugs were incinerated at the former Ministry of Housing site on Homestretch Avenue.
Speaking to the media, head of CANU James Singh said that the cocaine and marijuana were part of an accumulation of drugs seized over the past two years and which was now released for destruction because their court cases have been concluded. The total quantity of cocaine destroyed was exactly 730 kilos, with an approximate street value of US$30 million in the United States while the 1,970 kilos of marijuana destroyed could not be valued because of the wide variety of grades and corresponding prices. Singh said the street value of the cocaine was US$40,000 per kilo in the United States and US$45,000 in Europe per kilo.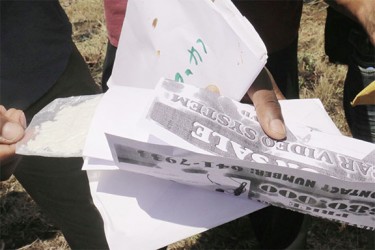 Singh said that there has been an increase in seizures both by the Guyana Police Force (GPF) and CANU as operations increase. He also cited the closer collaboration with the Guyana Defence Force (GDF), the United States Drug Enforcement Administration (DEA) and other agencies. Singh said that there has been more local action, more drug busts and more prosecutions, thus demonstrating the perseverance and commitment of the agencies towards the cause.
Questioned on the lack of high volume drug busts and the drug enforcement authorities' inability to catch the "big fish," Singh said that there will always be questions on the issue but declared it unfair to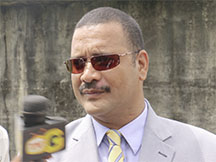 say that the authorities are not doing enough to catch the "big fish" or make large drug busts. "Guyana has not been deemed a narcotic state and the government is lending the support to law enforcement, thus carrying out its mandate in the fight against drug trafficking," he asserted.
Further questioned on the integrity of the inventory collected and maintained by the agency, Singh said that the relevant checks and balances are in place and gave his assurance that any contraband seized cannot return to the streets.
The sources of contraband collected include that obtained from airports, raids of vessels, homes, fields and other searches. Destruction is done on an as-needed basis, such as when there is a buildup of inventory, with the specific contraband destroyed contingent on the conclusion of their court cases.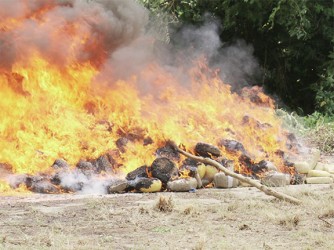 Most Read This Week