Police release man held in Pradika Persaud murder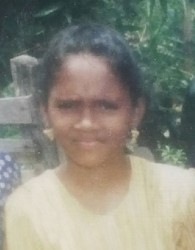 The police have released the suspect held in connection with the murder of Pradika Persaud, who was murdered on August 15, on the Essequibo Bank Public Road, because sufficient evidence was not produced to institute a charge.
Persaud, 26, also known as 'Simona' of lot 532 Zeelugt, EBE, was found dead on the Boerasirie roadway. A post mortem examination later ruled that she had been strangled.
'D' Divisional commander, Senior Superintendent Ian Amsterdam told Stabroek News that the 43-year-old man was released because the evidence against him was insufficient to institute a charge. He said however that the police are looking at another suspect, who was in Persaud's company the night she was killed.
The mother of the released suspect told this newspaper that her son was innocent of the allegation. She said her son was playing cards at a neighbour's house and that witnesses are willing to testify on his behalf.