Cops reviewing footage from Delicious Restaurant murder
Following the murder of an employee of the Delicious Restaurant on D'Urban Street, investigators are now going through video footage caught on the CCTV cameras installed at the facility and Crime Chief Leslie James has indicated that a pronouncement would be made shortly.
Forty-eight-year-old Debra Blackman called 'Debbie' of Critchlow Circle, Tucville was shot and killed just around 7:15 on Saturday night in what police believe to be a botched robbery.
Speaking to Stabroek News yesterday, James said that initial investigations have revealed that two men entered the facility and one approached Blackman and ordered food. Blackman's children have said that she was employed as a cashier at the Chinese restaurant for the past 10 years. According to James, the man attempted robbery but the woman resisted and she was shot twice: in the neck and in the shoulder. The men escaped but it is not clear if they managed to take anything.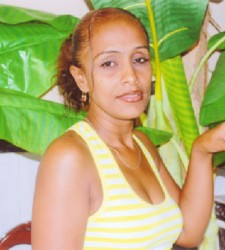 "But we are continuing our investigation and we are looking through the footage…" the crime chief said.
Residents told Stabroek News on Saturday night that one man entered the restaurant and seconds after the shooting, fled on a CG motorbike.
At Blackman's house yesterday, her grieving daughters were upset at the manner in which their mother was treated after she was shot and questioned why she was not taken to the hospital. They pointed out that their mother would have fought for her life and she should have been given the opportunity to seek medical attention.
"When I go, I saw my mother lying in a pool of blood on the floor," one of the woman's five children recalled yesterday as she wept. Instead of taking the woman to seek medical attention, the man in charge, instead, closed up the door with the woman still lying on the floor, according to reports.
On Saturday night, one man had openly voiced his disapproval that Blackman was not taken to the hospital. "The Chinee man just lock up he door and lef she shaking up pon de ground…why he didn't try to get her to the hospital?" he had asked. The man had stated too that there were persons outside who would have willingly taken the woman to the hospital. He said that in spite of the fact that her injury was serious, taking her for medical attention would have been a sign that some effort was being made to save her life.
Blackman's daughters said that the reported actions of the restaurant operator are harder for them to comprehend because of the years of dedicated service the woman gave to the restaurant. "My mother use to go to work every day and she would always say she have to go to work because she don't want Chinee quarrel," another daughter said.
Blackman's elder daughter Shelly had told this newspaper on Saturday night that the restaurant was robbed several times and her mother was encouraged to leave the job but she continued to give her services diligently.
Yet up to late yesterday, the family had not heard from Blackman's employers and several attempts to contact them proved futile as the telephone remained unanswered. "But they know our numbers; if my mother is a little late, they would call us, anyone of us to find out where she is and whether she coming to work…" one of the girls said.
They disclosed that the restaurant is owned by a couple who has returned to China and the business is presently being managed by their 19-year-old son and a friend. According to the children, the wife left several months ago and the husband left about one month ago.
At Blackman's house yesterday, relatives were making arrangements for her wake as her children and some of her six grandchildren grieved. Blackman's children described her as a dedicated mother.