AFC mourns passing of Lionel Peters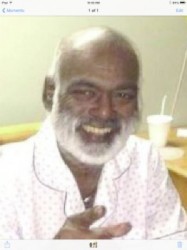 The Alliance for Change (AFC) is mourning the passing of one of its activists Lionel Peters, who died peacefully after prolonged illness, in New York on Saturday morning.
A release yesterday from the AFC said that at the time of his death, Peters was the Chairman/ General Secretary of the AFC's New York/New Jersey Chapter and in the past held the position of Chairman of the Queens Section.
The release said that during his prolonged illness, AFC leaders visited him in hospital, and were in constant communication with his wife Christine, and offered support.
The party said it will be represented at the funeral services and cremation of the late AFC stalwart, by its leader Khemraj Ramjattan, Vice-Chairman Moses Nagamootoo and Executive Dr. Veerasammy Ramayya.
"Lionel Peters has had a distinguished career as a Berbice cricketer and courageous political activist that spanned over 40 years. Formerly from Whim Village on the Corentyne, Lionel was to become a leader of the Progressive Youth Organisation (PYO), and an Organiser for the People's Progressive Party, from which he resigned. He enlisted in the Alliance for Change for the 2006 and 2011 elections, and became one of the party's militant fighters in the USA", the AFC said.
.