Plantation Brahan man dies after accident
A West Coast Berbice (WCB) man died after he was struck down on the D' Edward Village Public Road on Sunday morning by a speeding driver who fled the scene but was later apprehended.
Police in a press release stated that at about 1055h, Parmendra 'Roger' Mohan, 49 years, of Plantation Brahan, WCB, was struck down by a motor car while walking along the roadway at D' Edward Village, West Bank Berbice.
A police source said that Mohan had just exited a taxi and was heading to a barber shop which was a few feet away from where he was struck down. The source added that as the speeding car, PPP 7912 struck Mohan, he was slammed into a parked motor vehicle. Mohan, an employee of 'Rising Sun farm' was picked up in a conscious state and rushed to the New Amsterdam Hospital. However, he succumbed while receiving medical treatment.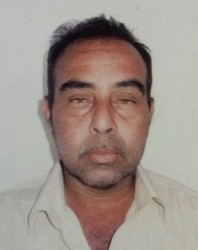 Mohan's widow, Indranie Singh recalled that she and her husband left home on Sunday morning and went to the barber shop at D' Edward. The grieving wife said her husband walked about five feet before he was struck down by the speeding Mazda. She screamed for help and public-spirited citizens rushed to her rescue and assisted to place the severely injured man in the car.
She related that her mortally injured husband asked her if she was hurt too, since they would normally "hold on to each other" when they were out on the road. The woman in tears stated that her husband told her everything would be alright but he succumbed. "He told me everything would be alright… but he fooled me", she said as tears fell.
The wife was also hospitalised, as her blood sugar level rose severely.
The woman said that as the driver fled the scene he hit a Rav4 and continued to speed down the road. However, the driver of the Rav4 chased behind him up to the Fort Wellington Police station where he was apprehended by alert traffic officers. At that point he was taken into custody and given a breathalyser test which indicated that he had less than the chargeable amount. The motor car was also impounded.
Mohan leaves to mourn his wife, three children and other relatives and friends.
Meanwhile, a man from No. 55 village Corentyne, Berbice is battling for his life at the Georgetown Public Hospital Intensive Care Unit. According to information received, Yaproy Totaram 35, was crossing the No.55 public road when he was hit by a motor lorry GSS 4512.The man was picked up and rushed to the New Amsterdam Hospital and was later transferred to the GPHC where he is currently a patient.