Corpse found along Carifesta Avenue identified as Mon Repos fisherman
A Mon Repos fisherman was found dead along the Carifesta Avenue on Saturday afternoon following a suspected hit and run earlier in the day.
Sixty-six-year-old Mohamed Bacchus was discovered at the side of the busy road by a horse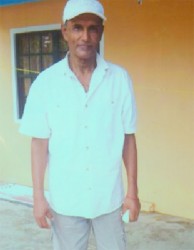 cart driver with his legs and arms broken. His net was still in his hands.
His family, however, was unaware that he had died until Monday.
His son-in-law, Ramdeo Budhram, said Bacchus left his Lot 48 Martyrsville, Mon Repos, East Coast Demerara home on Saturday morning around 2:30 am to fish at his usual spot. He stated that his wife called his phone later in the morning and it rang out. It continued to ring out when they called the next day.
"When we checked the house on Sunday he wasn't there so we made a report to the police and checked the hospital and Lyken Funeral Home but no one knew where he was," Budhram stated.
However, on Monday, he said, he saw a story in a newspaper stating that the police had found an unidentified man along Carifesta Avenue and when family members went to Lyken Funeral Home their worst fears were confirmed.
Budhram stated he was frustrated that his family did not know who had caused his father-in-law harm and left him to die. "Everything we are hearing right now is hearsay but they have snuffed out a person's life and didn't render any assistance. That's heartless," he said.
A post-mortem examination is scheduled to be conducted on Bacchus' remains today.