GWI gets $80M towards water treatment plant in Port Kaituma
-following pollution of creek by mining
The Ministry of Natural Resourc-es and the Environment will provide $80 million towards a water treatment plant in Port Kaituma, Region One, in light of pollution of the main water source, the creek, as a result of mining, the Government Information Agency reported yesterday.
Minister of Natural Resources and the Environment Robert Persaud who was in the community yesterday for an interactive session with miners,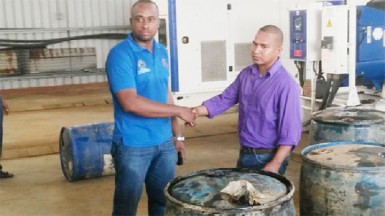 said "we also knew there is an issue of water supply and we did not sit back and say this is a GWI problem although GWI has been making some efforts," as he revealed the $80 million support.
Persaud added that the Ministry has been working along with GWI because it realises that the water source will pose some difficulties, especially during the dry season.
Persaud said the initiatives taken by the Ministry show its interest in supporting development in the mining community. "We don't want to only tell miners to produce more and what we have been doing to improve mining conditions, but also we look at how we can work with other Government agencies in supporting socio and infrastructural development."
Persaud said as a part of the Ministry's interest in the development of mining communities, a lottery will be done so that Port Kaituma miners will have more access to mining properties. He further urged miners to ensure mining is done in an environmentally sound way, GINA reported.
Meanwhile the Ministry presented four drums of fuel to the Power Generation Committee of  Port Kaituma.
The presentation of fuel to the PGC chairman followed a request to Persaud.