Berbice Volleyball Association president celebrates 2013 successes
Despite the challenges, President of the Berbice Volleyball Association (BVA) Gregory Rambarran said the group completed 70% of its 2013 programme and he anticipates a more productive 2014.
A report from the association said its programme was crafted in keeping with the call by president of the Guyana Volleyball Federation Lennox Shuffler to promote development through activity.
Under its motto 'Committed to developing and promoting volleyball in Berbice' the BVA donated Mikasa volleyballs, while FIVB, the sports world governing body donated development nets and other materials to several organizations and individuals, including the Corentyne Comprehensive High School, PMTC 1, Skeldon Jets V/Ball Club, two (2) Cropper  Primary School Students, the N0. 53 Volleyball Club, the Moruca Primary School of Region 1, several volunteer officials, Linden Murray of the Skeldon Back Centre, Clifton Phillips of Linepath (former National Player), Vashti Pooran, Seon Glasgow (Former National Captain), Coach Levi Nedd, a Coaches Strategy Board and 4 awards to outstanding members in 2013 at the PMTC 1 end-of-year social. The BVA was also presented with a number of gifts to aid its development, namely, one pair of Tachikara antennas compliments of Andreas Farias and John Flores of Kitana Travel Service. Shuffler also donated Mikasa beach volleyballs and nets, Mikasa MVA 330 balls and Mikasa kids ball and nets for the association's school's programmes.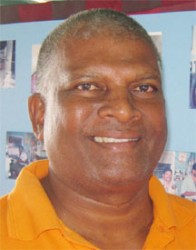 Rambarran also counted the hosting of mini volleyball competitions in schools; the return of competitive volleyball to Skeldon; the excellent performance of PMTC Players in Beach Volleyball in Suriname and the good showing of Berbice's top team (PMTC) at the International Invitational Festival hosted by the GVF in November; among the BVA's major accomplishments in 2013.
He also suggested that all clubs upgrade their grass courts/concrete courts to sand courts and promote two versus two beach volleyball contests in order to hone individual player's skills. Efforts are being made to acquire an indoor facility.
According to Rambarran, the cancellation of the Under-19 competition in May, due to miscommunication between the association's coordinator and the Region Six Department of Education and the Caricom Fun Day were major disappointments.
The Region Five Mini-Volleyball Festival for schools in the Ithaca to Bush Lot area and the Black Bush Outreach that were postponed will be held some time this year.
Rambarran said all clubs should endeavour to become more disciplined and to take steps to ensure that all competitions have been properly organised. Clubs must also assess and evaluate players, ensure that all scorers and referees are competent and that score sheets are used. Clubs must also have their own stationery and lists stating names of players, line-ups etc.
The BVA head also extended gratitude to all the individuals, groups and organisations that have supported the development of the club and the advancement of the sport.