Johnson, Morgan win 10Km races in Suriname
The 2014 season for two of Guyana's premier distance athletes, Kelvin Johnson and Alika Morgan started positively on Sunday in Suriname.
Johnson and Morgan ran away with the first place trophies and cash incentives at the Bigi Broki Waka 10Km road race which was staged in Paramaribo.
The local distance queen clocked 41 minutes and 47 seconds while Johnson finished in 33 minutes and 43 seconds which was a course record for the 11th annual event.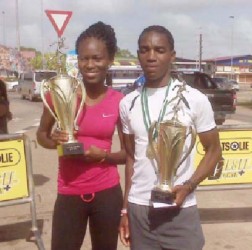 Guyanese, Lionel D'Andrade placed second to Johnson in 36 minutes and 24 seconds.
"I felt great from the start to the finish," Johnson told Stabroek Sport yesterday.
"I took the lead from about 300 metres into the race and never looked back. The weather and everything else was ok. That was the fastest time I ever ran for the race so I am pleased with my performance," he added.
Johnson also won the event in 2011.
Morgan said: "It was a good race but we had to run over a bridge, if it was on a flat course I would have ran sub 40 (minutes) but I'm still satisfied because I got the win and it is still early in the year."
She also thanked GT&T for making the trip to the Dutch neighbours possible.
Both runners also revealed that they will next compete in 5km and half marathon events on January 25 and 26 respectively in Trinidad and Tobago. (Emmerson Campbell)