Windies coach blames second string players for team's poor results
NELSON, New Zealand, CMC West Indies coach Ottis Gibson has blamed second-string players for his side's poor results in recent times and accused them of not making use of the opportunities given to them.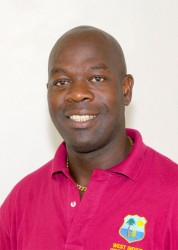 West Indies, suffering from the loss of seven players through injury, lost to New Zealand by 58 runs under the Duckworth-Lewis method in the fourth One Day International (ODI) on Saturday.
The defeat means that West Indies, after leading the ODIs 1-0, have slipped to 2-1 with the final game scheduled for today Caribbean time.
"We're missing around six players now. Gayle, Pollard, [Darren] Bravo, Samuels, Sammy, Ravi [Rampaul], Roach …," said Gibson.
"Basically, players are getting an opportunity that they wouldn't get if the above players were playing. And you have to say that these players are not taking the opportunities given to them."
Two of West Indies' top three were run out in the chase of 286, and the team never sufficiently recovered in Saturday's match.
Both those batsmen who were run out were replacements – Chadwick Walton and Kirk Edwards – brought in for injured players.
When the rains came, the Caribbean side was found to be 58 runs short viaDuckworth-Lewis.
"Our fielding… Couple of dropped catches, which would've changed [things]. The way we fielded in the whole innings, particularly towards the end, New Zealand got 25, 30 runs too many. It wasn't a 280 pitch," said Gibson.
"Then losing a wicket through a run-out, when you need to be sensible for the first 20 [overs] – with the new balls, it's going be difficult. Losing a couple of wickets to run-outs was a tough blow. And then weather interrupted and that was that."
Darren Sammy, who has suffered a hamstring injury, is out for about three weeks while Rampaul's finger injury might be healed in time to play the fifth ODI which West Indies must win to tie the series.
"Ravi's [finger] was a little sore, but he's a tough guy. It's just his left hand, so his bowling won't be affected and once we get him pain-free, I'm pretty sure he will play," the coach said.
"We're still waiting for the results [of the tests done on Sammy]. He's still limping around a bit. We're not sure how he's going to travel, but he's staying with us for a little longer. The injury is a two- to three-week situation. Hopefully, we can assess his situation for the T20s."
Most Read This Week