Fruta Conquerors to play fund raising match today
Tucville giants Fruta Conquerors FC will be hosting a fund raising exhibition match between past and present club players today at the Tucville Community ground.
The match which commences at 19:00hrs, will be used reunite all past and present players of the club under friendly conditions, in an effort to raise funds for the club in the upcoming 2014 football season.
Coached by Calvin Allen and managed by Marlon Cole, donning the famous orange jersey once again for the old guard will be Captain Lebert Stephenson, Neville Stanton, Jomo Hinds, Devon Forde, Elroy Parks, Lennox Arthur, Walter Moore, Anthony Abrams, Kevin Grimes, Anthony Nelson, Dexter Bentick and Julian Harry.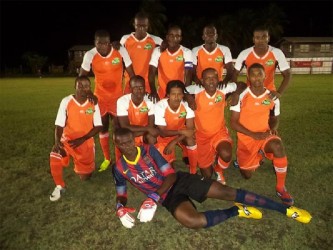 Suiting up for the younger brigade will be player-coach Vurlon Mills, Trevon Lythcott, Delon Williams, Sheldon Shepherd, Kacy John, Shawn Samogan, Odel Williams, Kishawn Lovell, Oswald Cornette, Kieano Lagado, Eon Alleyne, Dwayne Lawrence, Joshua Browne and Lumumba Hinds. Their manager will be Duncan Saul.
Coach Allen during invited comment said: "It's about fun and enjoyment and the getting all the old Conquerors players back together. We know the younger guys will come out aggressive, hopefully the guys can roll back some of the years.
"I expect it to be a competitive match. It's a good thing for Conquerors and I expect the senior players to give a good account of themselves and might even surprise a few people," said Allen.
Coach Mills during a pre-match comment said:"I expect it to be a very competitive game, we don't look at it as a walkover. The old players coming with more experience but will be at a disadvantage because of their fitness.
"I am looking forward to the game, this has been a rivalry long in the making and based on the old players' reputation, I expect a competitive game," said Mills.
In the opening matchup at 17:00hrs, Fruta Conquerors will oppose arch rivals Sunburst Camptown in a battle of the juices U17 affair.
Entrance to the venue will require a simple monetary donation.