Hinds is new GABF president
Nigel Hinds was elected the new president of the Guyana Amateur Basketball Federation (GABF) when the entity held its Electoral Congress at Olympic House, Kingston, yesterday.
With a total of 12 votes available and following GABF incumbent David Patterson opting not to run for another term, Hinds defeated his only challenger, Georgetown Amateur Basketball Association (GABA) President Michael Singh by a 9-2 score line.
Hinds during his inaugural address stated that it has been a challenging time for the executives in basketball and that all bodies involved should work and strive together to revitalize the sport.
He noted that the key areas the federation will be focusing on will be the roofing of outdoor facilities and the resuscitation of clubs.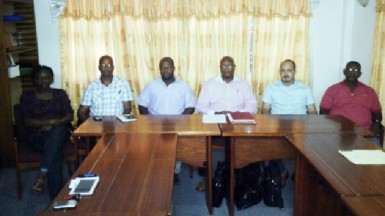 Hinds continued that the promotion of the female arm of all clubs and the establishment of a structured and collective budget for the running of the sport by all associations will also be targeted under his tenure.
"We have to think bigger and believe we can      accomplish these things. We can do these things, we have a lot of work to do. It's not that David left us in a ditch, basketball just declined," added Hinds.
Unsuccessful in his attempts, Singh was eventually elected to one of the vice-president posts, receiving the maximum 12 votes. Similarly elected in the capacity of vice-president were Haslyn Graham and Kenrick Thomas respectively.
In the general secretary poll, Richard Blair defeated Michael Burnett by an 8-4 margin while Clairmonte De Nobrega was voted into the treasurer's position unopposed even though he was absent at the time of the election as was Thomas.
Leona Kyte defeated Kirk Fraser 8-4 to clinch the assistant secretary/ treasurer position while former Guyana Basketball Officials Council (GBOC) president Cecil Chin was elected the federation's Technical Director unopposed.