Trophy Stall blitz tournament on today
- Khan, Meusa, Drayton renew hostilities
The country's three top players national champion Wendell Meusa, the man he dethroned Taffin Khan and the man who he lost to Anthony Drayton are expected to renew hostilities today when the Guyana Chess Federation (GCF) stages the Trophy Stall of Bourda Market and City Mall locations sponsored blitz (rapid play) tournament.
According to a press release from the GCF, today's tournament will be held at the Carifesta Sports Complex, Carifesta Avenue, Georgetown.
"I support all sports and chess came to me and got my support," Ramesh Sunich declared whilst making the presentation to Shiv Nandalall, President of the GCF.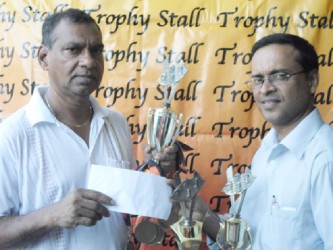 Sunich is the Managing Director of Trophy Stall and has pledged his support to the GCF in the form of sponsorship for two chess tournaments this year.
The second competition will be of the longer format and will be held later this year.
According to the release, Sunich stated that he would like to see chess reach a higher level with support from government and the business community.
"Chess is not only a game but it sharpens one's knowledge (of aspects) of life," he observed.
GCF president Nandalall thanked the business proprietor for his commitment and for coming on board with chess for three consecutive years.
A number of the country's top chess players are expected to be in action today including the trio mentioned above as well as Maria Thomas, Glenford Christie, Suhai Feng, Errol Tiwari, a former president of the GCF and Nandalll himself.
Players will be allotted 20 minutes per game in the seven-round Swiss system tournament and a number of trophies and medals will be at stake as well as cash prizes. Prizes will also be awarded to the best beginner (under 13-years-old), best U16 and best female players.  The entrance fee is $500 for senior non-members and $300 for junior non-members.
Registration begins at 9am at the venue and the tournament starts at 10am.
Players are reminded to renew their membership with the GCF for 2014 and pay lower tournament fees. Members of the federation may also become eligible to participate in tournaments overseas or vote at elections for GCF office bearers. The next election is set for February 2.
The annual membership fee for seniors is $2,000 and $1,000 for juniors,  (Under 20 years-old).