Hinds carts off Benjamin Sports Store Open 40-mile cycle road race
Orville Hinds yesterday defeated a field of 42 cyclists to win the second annual Benjamin Sports Store 40-mile cycle event in Berbice,
Hinds won the Open event in a time of one hours 59 minutes and 27 seconds with Raul Leal second and Michael Anthony, third.
Akeem Arthur, Alanzo Ambrose and Raymond Newton occupied the other three places.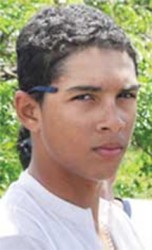 The race started in front of Benjamin's Sports Store at Fyrish Road, proceeded to the Number 43 Bridge and ended in front of the store.
Hinds received $40,000 for the win. Leal, back in the saddle following an injury, won the junior category from Anthony with Arthur third while Newton was the winner of the veterans' category with Junior Niles second and Seaborn Fernandes third.
Niles, who placed 10th overall, was the recipient of a special prize.
Hinds, three, Newton, two and Ambrose, Akeem Wilkinson and Hamzah Eastman, one each were the prime prize winners.
The race was organized by Randolph Roberts of the Flying Ace Cycle Club.
Meanwhile, John Lewis was returned as president of the club at its annual general meeting last Thursday.
The vice presidents are first, Mursalene `Muchoo' Bacchus, second, Randolph Roberts and third Ganesh Singh.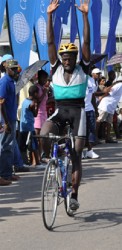 Margurite Kuma is the secretary, Roberts the treasurer and Andrew Carmichael the public relations office. The committee members are Darrie Tulsie, Rhonda Russell, Paul Arokium, Fizal Ally and Lloyd Joseph.
Errol Alphonso is the Patron.
Most Read This Week