Dependable Spare Parts throws support behind DCC
Dependable Spare Parts yesterday donated cricket uniforms and a sponsorship cheque to the Demerara Cricket Club (DCC) first division team ahead of their 2014 season.
The company handed over the items to DCC President Alfred Mentore, West Indies all-rounder Christopher Barnwell, National opener Trevon Griffith and National pacer Paul Wintz during a brief presentation ceremony held at its East Bank Demerara location.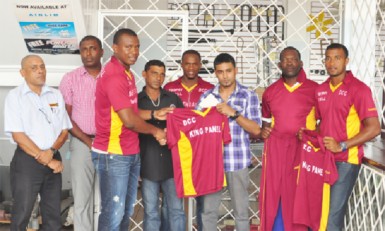 Mentore lauded the business for support over the years.
He noted that it has been loyal to the Queenstown-based club and has provided financial assistance as well as cricketing gear for the players.
Meanwhile, the sponsors were elated to support the venture for another year. They said the tokens were merely heartfelt acts provided to the players and the club who have represented the country with great pride over the years.
Most Read This Week