Upper Corentyne group aims to promote youth cricket in dormant villages
After successfully hosting four major tournaments last year, including the still ongoing Price is Right Supermarket 40 overs second division competition, the Upper Corentyne Cricket Association (UCCA) is anticipating a successful 2014 with more youth cricket and continued support from its sponsors.
In 2013, the UCCA organized the Mohabir Baljeet Sukhpaul Memorial trophy 20/20 competition; the Hotel Riverton Suites U-19 50 overs; the City Inn/Inter City Taxi 10/10 Tape ball Inter-primary School Competition and the Price is Right Supermarket 40 overs second division competition which started with 28 teams and is now at the quarter final stage.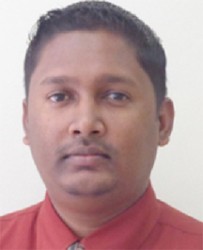 In addition to the Hotel Riverton Suites, the group hopes that most of its sponsors will renew their support for 2014.
To date, Hotel Riverton Suites has come on board with a three-year sponsorship for under 19 cricket, and the board has secured sponsorship from Parbattie Jaggai to run off a Secondary School competition in the Upper Corentyne which should start soon. A 20/20 competition will also be held as soon as the current 40 overs second division is completed. The board is also keen to promote youth cricket this year.
Vicky Bharosay, treasurer of the UCCA, said last year 17 clubs were among its financial partners and among its growth plans for 2014 is upping that number to adding all 28 active clubs to its roster. According to Bharosay, assistance was also given to some clubs to transform their grounds into playing order and the board hopes to undertake similar projects this year. The board also hopes to revitalise the game in a number of villages in the Upper Corentyne.
The UCCA is grateful to all its sponsors for their contributions in 2013. These include  GUYTRAC, Sukhpaul's Business Enterprise, Price is Right Supermarket, Hotel Riverton Suites, City Inn suites, Inter City Taxi, 4R Bearings, Vishnu's Super Store, Sarfraz Photo Studio and Recording Centre, La Grill Hotel, Restaurant and Bar, Ram's Stationery Store, AH & L Kissoon, Hand-in-Hand Mutual Fire Insurance Co. Ltd, New Building Society Ltd, Republic Bank, HN Sugrim and others.