Rodrigues here to ascertain level of football
—says scramble to assemble a team a few years before the World Cup should be avoided
Guyana Football Federation (GFF) United States of America-based Technical Director Mark Rodrigues said yesterday that his current visit to Guyana was to assess and ascertain the current status of Guyana's football.
Speaking at a press conference held at the Guyana Football Federation (GFF) office in Section K Campbellville, Rodrigues said: "I am here to do an overall assessment of Guyana football. I have my ideas of where we are and where we should be."
He said that the scramble to bring together a team a few years before the World Cup should be avoided,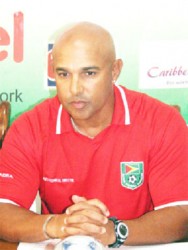 adding that the building of a team over a structured time frame and manner was simply the better option.
"We need to build on the legacy of what our women and men have done. We got two good legacies and we need to build on it.
"We need to enhance the youth by setting up leagues so that we can build a sustainable programme. We are behind the other Caribbean countries and need to catch up. We need to build from the bottom up, only then can we be on the right path."
Questioned about the current status of the female national side, Rodrigues said "Right now they are currently dormant but excited and eager to get going and attempt another run at qualifying for the World Cup.
"Thanks to the GFF for the opportunity to promote the game at both the male and female level in this beautiful country of ours," added Rodrigues.