Agricola, St Ann's, Providence win in Scotiabank kiddy cricket
The Scotiabank Kiddy Cricket Festival, East Bank Demerara District, continued yesterday with victories for the Agricola, St Ann's and Providence primary schools in matches played at the Thirst Park Ground.
In the first match, Peter's Hall Primary took first strike scoring 137-6 at the end of their 10 overs. Extras were the main contributor with 18. Seon Wright made 13, receiving support from Shemar Yearwood.
Bowling for Agricola, Devon Clarke and Thaiesha Bishop picked up two wickets each. Extras played a greater role in Agricola's innings contributing 24 of their 144-4 in 10 overs. Wright had a good all-round performance picking up two wickets to complement his batting.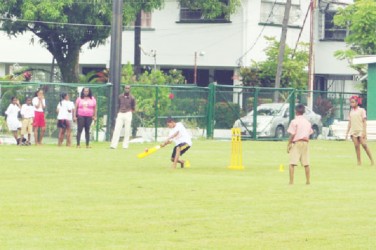 St Ann's Primary beat Mocha Primary by 29 runs in the second match. Isaac Jackson and Orande De Souza picked up four wickets between them to restrict Mocha Primary to 103-6. St Ann's replied with 131-6 in their allotted overs with John Lalchan and Trevon Narine being the joint top scorers with six runs each.
The final match was played between Eccles and Providence primary schools, with Providence defeating Eccles by 21 runs. Eccles lost seven of their wickets for 110 runs when their overs expired. Sophia Kamakoon was chief scorer with 12.  Ziphora Reid and Indira Amardeo kept Eccles primary in check with their tight bowling display, both picking up two wickets. Asif Khan ensured Providence's victory by accounting for 12 of the 131-5 made by Providence. Rawle Gittens took two wickets, with support from Kamakoon who returned to take two.
The regulations for the tournament require 10 players per team including 4 girls. Each batting pair is allowed a maximum of two overs. The batting side starts their innings with 100 runs and for every dismissal of a batter six runs gets subtracted from the team's total.
The competition continues tomorrow with games at Bourda, Better Hope and the Thirst Park grounds.