Mashramani Cup to bowl off Feb 23 in B/ce
Second-division teams from the East Canje/East Coast Berbice area will have a chance to prove their worth when they collide with each other in the Young Warriors Cricket Club organised second edition Mashramani Cup competition.
The 2014 Mashramani Cup, which was launched yesterday will bowl off on February 23 and is aimed at promoting the development of young cricketers as well as a means of raising funds for the club.
Ten (10) teams; Gangaram Strikers, Betsy Ground Triple Stars, Goed Banana Land, Young and the Restless, Rose Hall Community Centre, Canefield, Young Warriors, Bristol Warriors, #Two Cricket Club and Number #19 Combined, will once again vie for the first prize of $60,000 and a trophy. The second place team will receive $30,000 and a trophy; the third place finisher $15,000 and the fourth place team a trophy.  There will also be incentives for the man-of-the-match in the final. Speaking at the launch Secretary/Treasurer of Young Warriors Cricket Club Anil Beharry explained that the proceeds from the first competition will be used to purchase a number of things to spruce up the venue and improve their facilities, including acquiring a large cover for the pitch and square.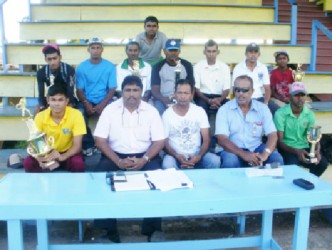 This year he added the club hopes to continue improving the facility which is being touted as the second best ground in Berbice, behind Albion.
"I am suggesting that when you receive your prize money at least some will go back to the club to purchase new gear and help develop your clubs," Beharry told captains of the various clubs who attended the launch.
The tournament will be played on a five over-per-side basis and teams will be allowed to field one first division player. "We will be using the Berbice Cricket Board (BCB) rules which do not consider a player over the age of forty as a first division player," he concluded.