BCB to stage one day second division competition as part of Golden Jubilee celebrations
The Berbice Cricket Board (BCB) which will celebrate its 75th anniversary this year, has plans to stage a number of memorable events as part of its Golden Jubilee celebrations.
Chairman of Special Events of the BCB Hilbert Foster, said Friday that it will be cricket, lovely cricket and more cricket in the Ancient County with the staging of a 40-overs-a-side second division competition.
The competition will be sponsored by the Hand-in-Hand Group of Companies, which on Friday renewed its sponsorship of the competition.
The tournament will be contested on a knockout basis, with more than 16 teams from Region 5 district set to participate
The winner will take home $60,000 and a trophy, the runners-up, $40,000 and the Man-of-the-Match in the final, $10,000.00 and a trophy.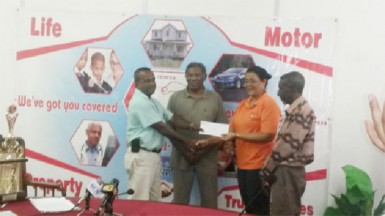 According to Foster, the tournament is aimed at developing the game in West Berbice and identifying new talent.
Among the teams expected to compete in the tournament are Blairmont, Bush Lot, Bath, Rainbow Generation, D'Edward, Rosignol and Hopetown.
Foster expressed gratitude to the Board of Directors and the management of Hand-in-Hand Group of Companies for their confidence in the BCB and for investing into the development of West Berbice Cricket.
He also thanked Vivek Joshi and Zaida Joaquin, for their cooperation.
"I would like to urge cricketers from all across West Berbice to take full advantage of the opportunities presented to them by this remarkable and hardworking cricket board. The BCB is fully committed to cricket in Region 5 and would continue to spearhead the development of the game at every level in the area," Foster declared.
Joaquin, in reply, said the company was happy to be a part of Berbice cricket and its development.