Anthony wins his first road race of the season
Team Coco's Michael Anthony powered to his first victory of the season and his career yesterday when he blitzed a field of Guyana's best wheelsmen to claim the 23rd annual R&R International 40-mile road race in a thrilling four-man sprint finish.
In ideal conditions for racing on the roadways of West Demerara, Anthony, 17, stopped the clock in one hour and 41 minutes for the event which pedaled off at Schoonord, proceeded to Bushy Park and returned to the point of origin for the finish.
The 2012 Junior Caribbean Cycling Championships gold medalist led Team Alanis' Paul DeNobrega, Continental's Geron Williams and Team United's Hamzah Eastman into the top four. Carlton Wheelers Cycle Club's Robin Persaud and Anthony's club mate, Raynauth Jeffrey filled out the top six paid positions.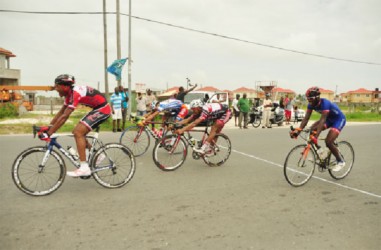 "I really wanted to win this race" Anthony told Stabroek Sport after the event. "I didn't win any of the races for the season and I never won a road race before so I'm glad I won this one, the two senior races I won were races in the park, I'm really happy to win today."
Anthony also took home the top honors in the junior category.
Standout veteran, Raymond 'Steely' Newton however pocketed two of the six sprint prizes while one apiece went to DeNobrega, Roraima Bikers Club, Marlon 'Fishy' Williams', Jeffrey and  Team United's Delroy Hinds.
Persaud (veteran), Toshwanna Doris (female) and Ozia MacAulay (mountain bike) also received tokens for winning their respective categories.
The Hassan Mohamed organised race pedaled off at a fever pitch pace with several sets of riders jostling for position until a strong 4-man break was established at Vreed-en-Hoop
These 14 riders which included the top six, worked in tandem and opened up a sizable lead on the chase pelotons.
At Windsor Forest on the downward journey the 14-man unit was spilt up into three groups with Anthony, Eastman, Jeffrey, Persaud and Geron Williams leading the way.
At Vreed-en-Hoop once again, the race became quite exciting as several riders staged solo attacks with ambitions to take home the spoils.
However at 200m from the finish, Anthony gritted his teeth, rose from his saddle and held off top sprinters DeNobrega, Williams and Eastman by a bike length.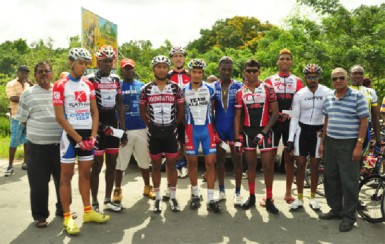 Notes: Yesterday's event was the fifth for the 2014 season. There were 42 starters for the race.
Mohamed  said that the next event he organises will be staged on February 22 in the National Park. The 11-race cycle programme will also be sponsored by R&R International. (Emmerson Campbell)