Bulkan wins Citizens Bank Players Cup
George Bulkan shot an impressive net 63 to win the Citizens Bank Players Cup and pilot his team Underdogs to victory in the GT Beer Team Challenge in the Banks DIH Limited/Citizens Bank Inc. sponsored one-day Golf tournament at the Lusignan Golf Club Sunday.
Forty four golfers braved tough conditions due to recent rainfall leading up to the LGC 2014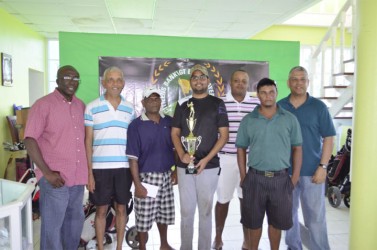 season opener but Bulkan (net 63 ) and his  teammates Troy Cadogan (68), Ronald Bulkan (86) and Kassin Khan (74) had a combined best net of 291 in the closely contested four-member team match.
The best gross of the day 72 was recorded by former three-time Guyana Open champion Avinash Persaud. Jaguars comprising Jerome Khan, Imran Khan, Jack Harry and Matti Wesselin   copped the second position with net 292 while Pasture Warriors spearheaded by Hamesh Tewari, Ravi Persaud and David Harry chalked up net 293 for third place.
Bulkan became the fourth player to win the prestigious Citizens Bank Players Cup joining previous winners Mohanlall Dinannauth, Andre Cummings and Patrick Prashad.
President of the Lusignan Golf Club Jerome Khan said the tournament was a great success and he thanked Citizens Bank and Banks DIH Limited for sponsoring the event during the presentation ceremony. He said the two companies have undertaken to sponsor the tournament annually.
Citizens Bank Senior Credit and Marketing Manager Lindel Harlequin said his company was pleased to be associated with the tournament while Banks DIH Communications Manager Troy Peters said the event provided the perfect start to the Lusignan Golf Club's 2014 season.
The tee off was done by Citizens Bank Managing Director Eton Chester, while Clifford Reis, Chairman of both Banks DIH and Citizens Bank was among the golfers in action.