Wartsila power for AAG flagship event
—20km road race billed as most lucrative ever
To commemorate its 20th anniversary of supplying power to the national grid, Wartsila Operations Guyana Inc., has decided to give back in a historic way.
The energy company will sponsor the most lucrative 20km road race to date, since in excess of $3M will be rewarded to the top finishers of the inaugural event billed for March 2.
During the official launch of the activity yesterday at GOA's headquarters, President of the Athletic Association of Guyana (AAG), Aubrey Hutson declared that the race will be "one of the best events we will ever have in Guyana."
Hutson pointed out that the prize monies are historic and encouraged local and international athletes to register for what promises to be a flagship event.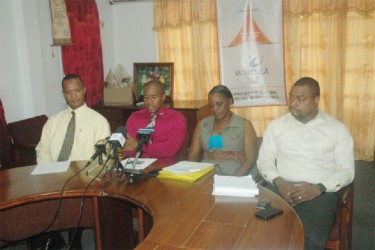 "The season is ripe for this race and we expect all the leading athletes to register. We also look forward to everyone coming out to participate in this mega race," Hutson stated.
The AAG head also mentioned that the event, which will run off at 06:00hrs at Paradise, East Coast and conclude at Wartsila's Headquarters, Kingston, will be staged in accordance with the International Association of Athletics Federations (IAAF) rules.
Hutson thanked Wartsila for its contribution to the development of the sport, stating that their overall budget to host the race was in excess of $4M.
The race will bring the curtain down on a week of activities from February 23-March 2.
"We wanted to do this to end our anniversary week with a bang," Wartsila's Contract Manager Arron Fraser disclosed.
"The genesis of this event is in the fact that we thought that we could make road races bigger."
Fraser said that the race is intended to attract international participation, hence the magnitude of the incentives.
The overall male and female prizes are: $300,000; $240,000; $200,000; $140,000; $100,000 and $50,000 for first to sixth places. There are other prizes for five other categories that include junior, youth and masters.
Fraser further pointed out that Wartsila is a "transnational" company and as such the race should reflect international standards.
Apart from the competitive aspect of the race, Fraser said that there will be a 'fun run' for corporate Guyana and he encouraged other companies to take part in the anniversary race.
Note: Wartsila has also sponsored the new road-race timing clock that the AAG will utilise.
Most Read This Week