Cricketer-of-the-Year to receive $500,000
-Says RHTY&SC Hilbert Foster
The Rose Hall Town Youth and Sports Club Cricketer of the Year is set to receive some half a million dollars in prizes including a cash prize of $200,000.
So says Hilbert Foster Chief Executive Officer of the RHTY&SC.
"Our 24th ceremony will be held on the 27th of April and will be bigger and better with a total of $3 million worth of items to be shared," said Foster.
Since 1991 the club has been organising annual awards ceremony for its membership,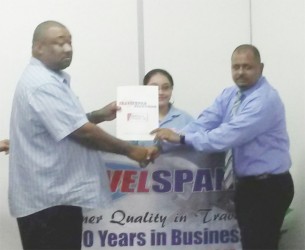 Foster explained adding that the initial ceremony began very small with the sharing out of four very small trophies and four water bottles. The ceremony has grown so much that last year, at the 23rd staging of the event,
a total of $2.5 million worth of trophies, medals, gifts and prizes were shared out to 40 members of the club, sponsors and friends of the RHTYSC, Foster revealed.
He said that the main objectives of the awards ceremony over the years have been to recognize heroes, honour outstanding performances, encourage members of the club to aim for excellence, assist in improving standards at the RHTYSC, and also to recognize the contributions of our sponsors.
"Everyone is fully aware of the success of the RHTYSC on and off the cricket field and we strongly believe that the ceremony plays a major role in our success," said Foster.
A total of 42 awards will be shared out but special emphasis will be placed on the Runner up Cricketer-of-the-Year, Junior Cricketer-of-the-Year, the most Disciplined Player-of-the-Year, the Most Promising Player-of-the-Year, the Most Committed Player-of-the-Year, the Female Cricketer-of-the-Year and the benefit year for a long serving club cricketer.
Foster said that he would like to thank Travel Span for donating a special package for the awards ceremony. The airline, which has returned to Guyana after a few years absence, donated a ticket for the Regional Cricketer-of-the-Year.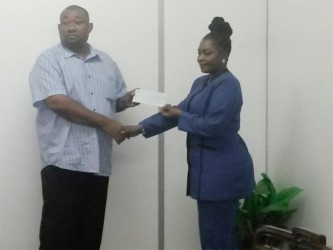 The ticket, which was presented by Travel Span representatives Sophia Fredericks (travel consultant) and David Goberdhan, will be used to travel to the USA at the cost of over $150,000.00.
"Similar prizes hopefully would be given to our local Cricketer-of-the-Year and the Female Cricketer-of-the-Year," he opined.
Included in the prizes at this year's ceremony are one year's free supply of cable television, airplane tickets to the USA, visits to local resorts, cell phones, jewellery, designer clothing, electronic gadgets, educational packages and bicycles.
Additionally, a major surprise gift will be unveiled before the awards ceremony, said Foster.
A cheque for $200,000.00 to be given to the Cricketer-of-the-Year was handed over by Dionne Johnson, Sales Supervisor of the electrical department of Mohamed's Enterprise. Among the front runner for the award are Shemaine Campbell, Jason Sinclair and Royston Crandon.