Shabazz elected president of Road Runners athletic club
Diallo Jamal Shabazz was last Friday elected unopposed as president of Road Runners Track and Field Club at its Annual General Meeting at the Thomas Lands, YMCA building.
Wincel Thomas, co-founder and former first vice president of the club, declined nomination but later accepted the  position of Organising Secretary.
The new executives are President-Diallo Jamal Shabazz, first vice president-Royston McDonald, Secretary – Shellon Beckles, Treasurer-Narine Ramroop, Assistant Sec-retary/Treasurer-Marilyn Gibson, Organising Secretary Wincel Thomas and Public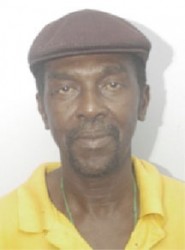 Relations Officer-Rawle Franklyn.
The Committee Members are Terrence Alleyne, Kenneth Assanah, Eusi Harlequin and Nigel Siland.
Virlyn Gibson,  U14 silver medallist high jumper at the 2013 National School championships was appointed Club Captain, while Shabazz, Thomas, Royston McDonald, Narine Ramroop and Nigel Siland are the appointed coaches. Major General (Ret'd) Norman McLean is the patron of the club and former AAG President, Claude Blackmore, the Technical Director.
According to a press release, the  club intends to stage a recruitment drive to enroll male and female athletes from Buxton, Sophia, Agricola, Tiger Bay, and Albouystown. Shabazz expressed gratitude to President Donald Ramotar and several other entities and individuals including Major General (ret'd), Norman McLean, Lt Col (ret'd) Larry London, Compton Mendonca, Dr. Carl Max Hanoman, Director of DeSinco, Frank DeAbreu, Director of Youth and Sports, Neil Kumar, Mohamed's Enterprise, Les Ramalho, Rudy Grant, Noble House Seafoods, Kaieteur News Publisher, Glenn Lall, GT&T, Vic Inshanally of Guy enterprise, Director of Marketing (Banks DIH), George McDonald and Marco Trading.
Most Read This Week