Mangal wins inaugural Noble House Memorial Cup golf tourney
- ' It is an honour for David and Bssil to be remembered' – Doreen de Caires
Former Guyana Open champion, Mike Mangal was declared winner of the inaugural Noble House Memorial Cup golf tournament yesterday at the Lusignan Golf Course.
Mangal tallied 37 points for the Stableford format competition which was held in memory of founder and former Editor-in-Chief of Guyana Publications Limited, publishers of the Stabroek News, David de Caires and former LGC pro Basil Sukhram.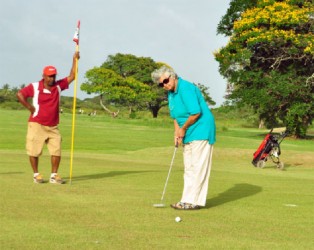 Avenash Persaud (34points), Pur Persaud (32 points) and L. Ramsundar (32 points) were the runners up to Mangal. Esau Shamshudin was the golfer Nearest to the Pin.
At the presentation ceremony, de Caires' widow, Doreen, who is also an outstanding golfer, and who participated in the tournament, thanked the players who competed stating that "it is an honour for David and Basil to be remembered'. She also encouraged more citizens to participate  in the sport.
There were 34 registrants for yesterday's Cup.