National Resource Centre officially open
The ribbon has been cut marking the opening of the National Resource Centre that is expected to open new doors and launch careers.
Minister of Sport, Dr. Frank Anthony, Director of Sport, Neil Kumar and young sportsmen and women among others attended yesterday's ceremony for the multimillion dollar Woolford Avenue facility. The Centre was established to develop sport through educational and scientific concepts.
Coaching courses, sports lectures, certifying of coaches and training among other activities will take place at the facility.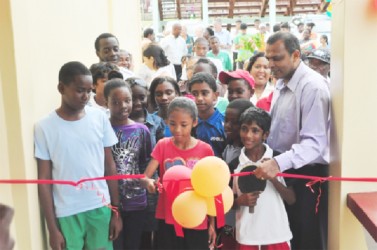 "This afternoon we mark a milestone in the development of sports in our country," said Dr. Anthony during the keynote address.
"There is an educational concept in sports, therefore we took a very conscious decision to establish this facility, we will be offering coaching courses so that people can come here and get certified.
If we are really to develop sport we have break to away from the traditional practice and start training people in the right way and let them get the opportunity to go through courses so that they can be properly trained, then in turn be able to use that training in their teaching and coaching."
He added:"When we looked around we did not have an institution for formalized training so we thought for the first step we will start with a resource centre."
So what does the Resource Centre house?
"We are providing books so people can come here and read, we have a set of computers so persons can get up to date information on various disciplines and we will be getting DVD players so that teams wanting to come here and review matches can do that" Anthony pointed out.
Information of banned substances on the WADA list will also be at the facility. "While we have been offering testing, a lot of athletes are not knowledgeable of the banned substances and we can correct that by offering training here" said Anthony.
"The ministry will be employing someone to be an anti-doping desk officer so that people wanting any information on stuff on the prohibited list can come here for information."
While the yesterday's focus was on the first step, Anthony stated that the bigger picture is to establish a Sports Institute.
Expounding on the Sports Institute, Anthony said "Our intention in a couple of years is to have a sports institute where we can offer full time courses in sport, we are trying to bring some structure to what we do sports wise in Guyana." (Emmerson Campbell)