Persaud leads East Coast Tigers to DCB 0-40 title
Former national wicketkeeper/batsman Sheik Mohamed produced an entertaining batting performance to lead East Coast Tigers to the Demerara Cricket Board (DCB)/Raj Singh Insurance Brokers over 40 cricket title yesterday at Everest Sports Club ground.
Replying to the small total of 89 set by West Demerara Mavericks (WDM), Mohamed, who opened the batting with Eon Abel, scored 20 runs in the first over as East Coast Tigers reached 92-3 in reply.
Mohamed began with a boundary to the deep backward square fence off the first delivery bowled by Abib Haniff which was followed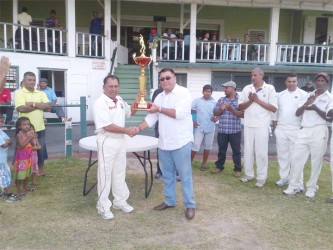 by two runs through mid-wicket, a six over deep backward square, another four behind square on the onside and a four through cover.
Maverick got their first wicket when Abel was bowled by Steve Harripaul without scoring in the second over. Jacob Persaud then joined forces with his skipper for a 30-run, second-wicket partnership that lasted 7.5 overs. With Persaud's departure, Mark Malone and Mohamed added 12 runs in the space of nine deliveries before Mohamed hit a full toss and was caught at cover for 32 off 25 balls.
Mark Malone (26*) turn up the tempo hitting five boundaries as his team reached the target in 13.5 overs. At the other end Jagdesh Persaud was unbeaten on 3.
Earlier, WDM were well placed at 25-0 after five overs with openers Deoram Persaud and Eon Williams moving along quite smoothly.
However Abel got rid of Williams LBW for 13 in the sixth over and Persaud followed shortly bowled by off-spinner Desmond Butts for 15. Number 4 batsman Harmanand Singh walked to the crease and hit the first delivery he faced for a huge six onto Carifesta Avenue, and he followed that up with a four through mid-wicket before being caught at mid-wicket off the bowling of man of the match Malone.
Wickets continued to tumble with only number 7 batsman Haniff putting up any resistance to be the last man out for a top score of 18 as WCM were bowled out for 89 in 16.5 overs.
At the presentation ceremony, Vice President of the DCB, Anand Sanasie congratulated both teams for playing competitive cricket. He complimented the DCB President, Raj Singh for using his initiative to sponsor the tournament.
Raj Singh said he was satisfied with the way the competition was played but said that he believes with more preparation and planning the next edition can be better. He noted that from a GCB perspective, they are looking to have an Inter-County Over-40 competition in the future since Berbice already has an over-40 competition.