Bush Lot beats Enmore in Azeez Memorial
Brenthnol Woolford's entertaining half century took Bush Lot United Sports Club (BLUSC) past Enmore Cricket Club (ECC) by 30 runs in the Azeez Memorial Cricket Competition, played last Monday at the Bush Lot ground, West Coast Berbice.
The game, which was played in honour of Bush Lot cricket icon Abdul Azeez aka Buddy Boy, saw BLUSC scoring 202-7 in 35 overs. Woolford scored at almost a run a ball to make 86 off 89 balls, he got support from Kord Griffith (59) and a quick fire 22 from 16 balls by Javed Saywack.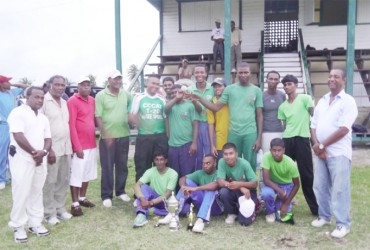 Bowling for ECC, Jainarine led the way with 4-24 runs and G Moriah with 2-26 runs from 6 overs. In reply ECC lost their first wicket with B Ramkellawan being bowled by Dellon Joseph in the second over to leave the score at 5-1, a position from which they never recovered.
Opener and former national wicketkeeper Sheik Mohammed and youth cricketer B Ramlakhan staged a spirited fight-back, with Mohammed scoring a fighting 18 and Ramlakhan a well-constructed 43. After their removal, compliments of Javed Saywack and Dellon Joseph respectively, the writing was on the wall.
The only other batsmen to offer any resistance were G Moriah and C Ramlall, both getting into double figures.
Dellon Joseph with 3-28 from 7 overs and Bramdat Singh 2-22 from 4 overs were the chief wicket takers for BLUSC.
The President of the Bush Lot United Sports Club, Robby Saywack thanked the Enmore Cricket Team for playing a hard fought game; and also the spectators for being a very disciplined yet vocal crowd who supported the teams to the fullest. He exhorted the players to stay focused and to train hard to achieve success in the game.
Mr Anil of Enmore emphasized the need to develop young talent in order to strengthen the cadre of national cricketers.
He also commended the two teams for including in their line-ups Under 17 and Under 15 cricketers as this bode well for the future.
Most Read This Week