Walsh grabs four as Leewards thrash CCC
BASSETERRE, St. Kitts, CMC – Leeward Islands opened their campaign with a 79 run win over Combined Campuses and Colleges (CCC) on the final day of their first round WICB Regional Four-Day tournament here  yesterday.
A four wicket haul by off break bowler Hayden Walsh stifled CCC's efforts to chase down the 262 run target set by Leewards after Jahmar Hamilton's century had put the home team into a match-winning position Monday.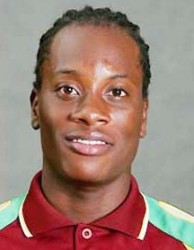 CCC, resuming from their overnight 110 for four, lost their remaining six wickets for the addition of 79 runs as Walsh, a 21-year old spinner, reaped further havoc
on CCC's ambitions.
Walsh continued the destruction caused by fast bowler Gavin Tonge who the day before had removed the top three batsmen cheaply.
His four wicket haul secured the scalps of Raymon Reifer, Kavem Hodge and Akeem Dewar who was caught for 21 while Jacobs was caught and bowled for 22.
Chaddick Walton led CCC's bid to rebuild the innings and reach the target with a defiant half century after they had slipped to 89 for the loss of four wickets.
Walton struck eight fours and a six in a top score of 56 and featured in a 64 run stand for the fourth wicket with Reifer who scored 22.
He also added 24 for the 5th wicket with Steven Jacobs.
Walsh finished with four for 81 while Tonge ended with three for 44.
Hamilton was named man-of the match for his 119 which tilted the balance in favour of the Leewards.
Scoreboard
LEEWARDS 1st Innings 164
CCC 1st Innings 202
LEEWARDS 2nd Innings 299
CCC  2nd innings 189 (overnight 110 for four)
Combined Campuses and Colleges 2nd innings (target: 262 runs)  
S Thomas         c Hodge b Tonge          16
A Alleyne          c Walsh b Tonge           4
K Corbin           b Tonge                           4
R Reifer            c †Thomas b Walsh       22
C Walton†         c †Thomas b Walters     56
S Jacobs*         c & b Walsh                   22
K Hodge           c Tonge b Walsh           6
K McClean        c & b Martin               3
A Dewar            c †Thomas b Walsh   21
R Austin            not out                      11
K Williams         c Joseph b Martin     6
Extras   (b 12, lb 4, nb 2)                    18
Total     (all out; 61 overs)               189     
Fall of wickets 1-16 (Thomas), 2-24 (Alleyne), 3-25 (Corbin), 4-89 (Reifer), 5-113 (Jacobs), 6-125 (Hodge), 7-144 (Walton), 8-157 (McClean), 9-172 (Dewar), 10-189 (Williams)
Bowling: Tonge 13-3-44-3, Martin 19-10-17-2, Walters 10-4-18-      1, Walsh 15-1-81-4, Willett 4-2-13-0.
Toss Leeward Islands, who chose to bat
Points Leeward Islands 15, Combined Campuses and Colleges 4
Player of the match JN Hamilton (Leeward Islands)
Umpires L Abraham and Z Bassarath
Match referee C James
Reserve umpire W Mitchum