Guyana returning without a medal from South American games
Guyana's boxers and track and field athletes will return from the ongoing South American Games in Santiago, Chile without a medal.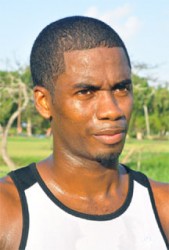 Sights were set on Cleveland Forde (men's 5000m) along with Wayne Harlequin and Cleveland Thomas (men's 800m) to end the dry spell at the Games but the athletes once again failed to step on the podium.
Forde placed ninth in the 10-man 5000m field clocking a slow 15:19:69s for the event which was won by Chile's Victor Aravena in 14:06:02s.
Harlequin (1:55:88s) and Thomas (1:57:90s) then ran in ninth and 10th respectively in the half-mile event.  Brazil's Keiberson Davide took the gold in 1:45:30s.
This came on the heels of Thomas and Forde finishing eight and ninth respectively in the final of the men's 1500m.
Sprinters, Alisha Fortune and Winston George will also return to Guyana without hardware.
Fortune finished last in the women's 100m semis (12.29s) and failed to finish in the semi's of the women's 200m.
George barely missed the podium with a fourth place finish in the men's 400m (46.15) and placed fifth in the men's 200m final in a time of 20.77s.
The three pugilists Dennis Thomas (0-3), Eon Bancroft (0-3) and Theresa London (KO) also lost their initial bouts of the tournament.
Guyana's contingent is scheduled to return on Thursday.
Most Read This Week