Mae's adjudged most outstanding school
— Business School TT tournament
Mae's School, winners of the novices, the 11 years and under and the 13 years and under categories was adjudged the most outstanding school when the presentation ceremony for the just concluded Business School tournament took place yesterday at the National Gymnasium.
Marian Academy won the 15 years and under title while St Stanislaus College carted off the 18 years and under title.
St Rose's High was adjudged the Most Disciplined School.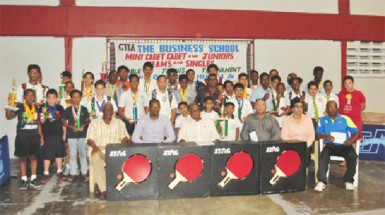 Jimmy Bovell, Managing Director of the Business School thanked the schools and players for participating in the tournament and committed his organization to sponsoring next year's tournament. According to Bovell, the pursuit of academics and sport, if done hand in hand, will help to mould well rounded individuals a point echoed by  Gervy C Harry Administrative Officer in the National Sports Commission, who thanked the schools and the players for participating in the well attended tournament.
Harry took the opportunity to laud the governing association the Guyana Table Tennis Association for having the initiative to  stage  the tournament adding that he wanted to see more sport being played in schools as it helped to produce more rounded individuals.
Bovell also said it was his desire to see the Business School more actively involved in the sports arena particularly table tennis.
President of the GTTA Godfrey Munroe said that the turnout was indeed heartening and he too was vociferous in his praise for the schools, the players and their parents for their participation.
Munroe, a former national men's singles champion, said that the tournament was held with the aim of exposing the talent and said that his association is willing to help nurture the talent by staging more tournaments whereby the players can become more proficient. He said that opportunities for travel and for scholarships were there for those who have the talent and are willing to work hard to improve the quality of their game.
Director of Sport Neil Kumar congratulated the players who won and the GTTA for organizing the tournament which he said augurs well for the sport.