Chatterpaul, Joann Deo crowned Sanjay's Jewellery golf champs
Chatterpaul Deo and Joann Deo were crowned champions of the inaugural Sanjay's Jewellery golf tournament played last Saturday at the Lusignan Golf Course, East Coast Demerara.
The tournament, which was played in a new format, saw 44 registered golfers competing for honours in 11 groups. The two person partner tournament combined scores using 3/4 of the handicap which resulted in a very competitive tournament.
Captain of the Lusignan Golf club Chatterpaul Deo and his daughter combined their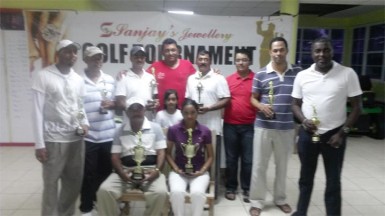 efforts to create history winning the closely played tournament with a total score of 144. Haresh Tiwari and Ravi Persaud followed closely with a score of 145 while third place went to the Cummings brothers Roy and Andre.
Closest to the pin went to Alfred Mentore while best gross went to Mohanlall Dinnanauth.
The proprietor of Sanjay's Jewellery was on hand to hand out the trophies  assisted by his children and in a brief comment said that he was very happy with the tournament and the format in which it was played. He also said that it was very good to see the father/daughter team winning.  The jewellery giants also confirmed their commitment to sponsoring future tournaments one as early as October 2014.
David Mohamad, vice president of the Lusignan Golf Club, said that continuous improvements are being done on the course and to the club house. He added that there will be weekly tournaments for the next six weeks with a possibility of a double header in the weeks ahead. He also took the opportunity to thank Sanjay's Jewellery for their long term partnership with the Lusignan Golf Club and wished the company the very best.