Ross, Beckham praise Jaime Mc Donald for bodybuilding support
Fitness Express, Guyana's leading supplement and fitness products supplier, has once again flexed its corporate muscle in support of a discipline.
Jamie McDonald, owner of the 47 Sheriff Street, Campbellville entity, made it possible for IFBB Pro, Jeff 'Classic' Beckham to be in Guyana as Saturday's guest poser for the Hugh Ross Classic (HRC) at the National Cultural Centre by undertaking Beckham's airfare and other expenses.
On Tuesday, the six foot one inch, 260-pound, Beckham, accompanied by chairman of the HRC, Hugh Ross, visited McDonald at his establishment. During the visit, the Queen's, New York muscleman stated that he is excited to be in Guyana for the first time and thanked McDonald for sponsoring his sojourn.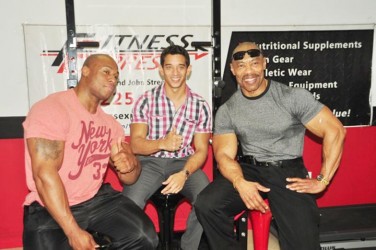 Ross, Guyana's world renowned bodybuilder and 2010 Mr. Universe Masters champion, echoed similar sentiments and praised McDonald who is always eager to lend support for a wide cross section of disciplines in Guyana.
McDonald, who has sponsored numerous bodybuilding and powerlifting shows in the past, expressed his gratitude in providing sponsorship and encouraged patrons to support the event.
The Fitness Express boss also stated that members of the public can meet and greet Beckham for two hours today starting at 14:00hrs.
Tickets for the event cost $1500 and the show is scheduled to commence at 19:00hrs.
Defending champion, Kerwin 'Chisel' Clarke, last year's CAC gold medalist, Devon Davis and newly crowned Novices champion, Sylvester Andrews are some of the contenders for the coveted Mr. HRC title.