Muscles and Bikinis on show tonight
The highly anticipated fourth edition of the Malta Supreme Hugh Ross Classic (HRC) Bodybuilding and Fitness Show will be staged tonight at the National Cultural Centre.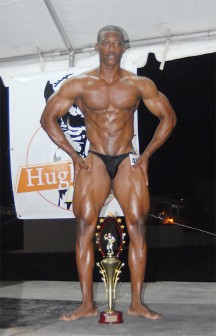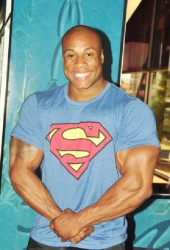 The cream of the nation's musclemen showcasing rippling abdominals, well defined quadriceps, sculpted arms will be on display as they battle for supremacy and the tag of Guyana's top bodybuilder.
The women too will be on display clad in their often brightly coloured bikinis.
This year's event promises to be of a higher standard than the previous classics since many of the athletes are seasoned and have competed in many shows before.
When interviewed, the gladiators promised to bring their 'A' game to the stage.
A thrilling night is envisioned.
The musclemen will be placed in the four standard categories, namely: bantamweight, lightweight, middleweight and heavyweight and a category for women called the 'female figure' category.
The 'female figure' category will based more on being toned with proper symmetry as opposed to being ripped with muscles.
There will also be a male guest poser, IFBB Pro, Jeff 'Classic' Beckham who arrived in Guyana since Monday.
Notable names that will be onstage include defending champion and current Mr. Guyana, Kerwin 'Chisel' Clarke, former Mr. Guyana, Clint Duke, double CAC gold medalist, Devon Davis, current Novices champion, Sylvester Andrews, reigning Ms. Physique, Nadina Taharally; and three-time HRC female winner Track and Field Queen Alisha Fortune.
According to Chairman of the HRC, Hugh Ross yesterday, "there will be 20 plus males and six plus females on the stage."
The weigh-in will be held this morning at the NCC from 10:00hrs.
Admission to the venue will cost $1500.
The event will commence at 19:00 hrs.
Besides Fitness Express and Banks DIH Limited, some notable sponsors include Windjammer Hotel, The Trophy Stall, Sanjay's Variety Store, Chase's Academy, Giftland Office Max and Woodpecker Trophies and Sports.
The inaugural HRC was held in 2008, while the second one was held in 2010. Mark 'Uno' Perry was 2008's overall winner, while Royston Booker was 2010's overall winner. Sprint queen Alisha Fortune was the top female body6builder in 2008, 2010 and 2012.
Most Read This Week