IBE thrashes Shivitas 25-0
…in Digicel u-18 knockout football championships
The Institute of Business Education (IBE) led by a seven-goal haul from Jason Cromwell and a five-goal burst from Shemar Scott, steamrolled Shivitas Business College 25-0 when the fourth annual Digicel National Under-18 Knockout Football Championship continued yesterday.
At the Beterverwagting (BV) ground, Scott began the carnage when he opened the scoring in the very first minute of play. Cromwell would increase the score line as he found the back of the net through a 10th minute effort. It quickly became 3-0 when Isiah Holder netted two minutes later. The score line continued to balloon when Cromwell scored his second in the 13th minute. Scott then gained his second, netting compliments of a 14th minute conversion.The goal-rush would continue when Cromwell completed his first half hat trick with a 19th minute effort. Holder then pushed the score line to 7-0, netting his second with a 22nd minute strike. He then sealed his hat trick when he netted once again two minutes later. Scott would then seal his helmet trick, quickly scoring two goals in the 27th and 28th minutes to increase the score to 10-0.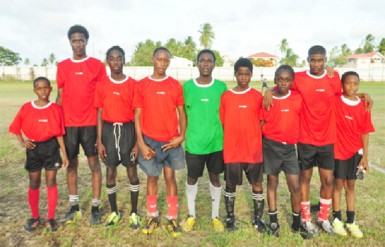 Colin Liverpool then got into the goal-rush, etching his name on the scorer's sheet in the 29th minute. The lopsided showdown would continue minutes later when Cromwell and Holder netted once again in the 35th and 36th minutes respectively. Oder Abrams and Shamar Gonsalves then assumed scoring duties, netting in the 47th and 50th minutes correspondingly. Teshawn Gordon found the back of the net one minute later while Cromwell grabbed his fifth of the match in the 60th minute as IBE further extended their lead to 17-0.
Goals continued to rain when Seon Singh netted in the 62nd minute. Gordon then sealed his second half double with a 67th minute effort and Singh again sealed his double with a 69th minute attempt.
The score line became 22-0 when Cromwell completed his haul with strikes in the 70th and 71st minute respectively. The record result was eventually completed as Scott, Singh and Deshawn Trotz found the back of the net in the 72nd, 73rd and 75th minutes respectively.
Over at the Hararuni ground in the Region Four zone, Friendship Secondary booked their berth into the next round when they overcame Dora Secondary by a 3-1 score line on penalty kicks after regulation time finished with the scores locked at 1-1.