Rugby team planning upset of USA
-Captain Ryan Gonsalves
Guyana takes on USA South on Saturday in the final of the NACRA 15s Championships in Atlanta, Ga.
The 'Green Machine' will be facing its toughest test in the championships after thrashing Barbados and dethroning Trinidad and Tobago as the Southern Zone champions. Defeating the higher ranked USA outfit at home will be an uphill task but Captain Ryan Gonsalves' men are plotting an upset.
"I have great confidence in this team and we are capable of beating the US on their home turf" Gonsalves told Stabroek Sport yesterday.
"For the past two weeks we have been working on cleaning up the mistakes we made against Trinidad and we look forward to showing everyone that we are a good team and we will do our best on the field."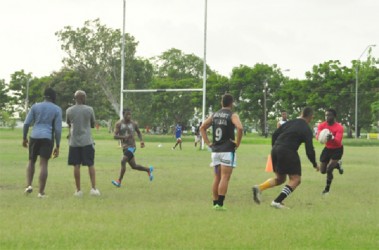 The national captain mentioned that the team which is scheduled to wing out this morning remains unchanged and is upbeat. "We are a confident bunch and on a good day once we play to our plan and our strengths, we can beat any opponent anywhere. We will put our best foot forward and continue to do Guyana proud."
Guyana's rugby has been breaking new ground for several years now as Gonsalves' charges rise in the world rankings. Ranked 60 at the beginning of May, Guyana has leaped to 53 on the International Rugby Board computer with the string of victories in this campaign.
The 'Green Machine' will be looking to continue their ascension on Saturday.
As the FIFA World Cup fever heats up Brazil and the rest of the globe, the Guyana Rugby Football Union officials were quick to point out, that the national rugby team is now ranked higher than its counterpart.
Despite this fact the team still needs funds to cover the cost of meals and will welcome whatever support they can receive. Like several other "minor" sporting branches in Guyana, rugby suffers from a lack of funding that is holding back its development and blocking the game from breaking into the local mainstream sporting mentality. If Guyana wins on Saturday it will send a clear message both to the rugby world and to decision makers here in Guyana. (Emmerson Campbell)