Jeffrey's confidence sky-high
National cyclist Raynauth Jeffrey's confidence is at an all-time high ahead of this weekend's National Cycling Championships. When the calendar flipped to June, Jeffrey's sole focus was defending his National Time Trial and Road Race titles.
The Team Coco's standout and one of the three cyclists scheduled to represent Guyana at the Commonwealth Games next month still has that laser-like focus and is fully geared up to defend his titles this weekend.
"I'm going in with full confidence" Jeffrey told Stabroek Sport on Thursday.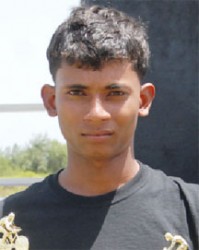 "This is one of the main races that you get recognized from and I want to successfully defend the titles to prove that last year was not a fluke.
"My wins last year was a really big highlight for me and to take the jerseys and to have the trophies, makes me want to do it again," he added.
Recent form has motivated the talented 20-year-old wheelsman.
"I'm really motivated. I've been doing great in training and competing at a high level in the past week and I'm feeling really, really, good at the moment and I can't wait to put a number on this weekend."
For Jeffrey, the coming days can prove to be an important dress rehearsal for the Commonwealth Games in Scotland where he will seek a medal he dearly covets.
"The Commonwealth Games is a big goal. I definitely want to get a medal in Glasgow but I'm still focused on winning this weekend."
Notes: Today's 10km Time Trials will commence from Madewini (hill after Splashmins) to the first toll station and return to the point of origin.
All cyclists are required to be at the starting line at 09:00hrs for registration. For the road race tomorrow, the riders are asked to be at the starting point at Homestretch Avenue at 6:00am for registration of the road race.
The road race will pedal off at 7:00am with the senior riders proceeding to Soweto on the Linden/Soesdyke Highway and returning to Homestretch for the finish. Veterans and Females will turn back at Kuru Kururu while junior riders will turn back at Long Creek. Juveniles will return from Coverden. (Emmerson Campbell)