Green Machine defeats the Red White and Blue.. lifts NACRA 15s title
Guyana is now the NACRA 15s rugby champions.
After trailing 24-8 at the half, the Guyana's 'Green Machine' drove their way back to defeat USA South 30-27 in extra time yesterday to lift the NACRA 15s title against all odds.
Playing in front of a pro-American crowd at the Life University Rugby Complex in Marietta, Atlanta, Ga, the underdog visitors settled in after the break to record an incredible comeback over the heavily favoured opponents.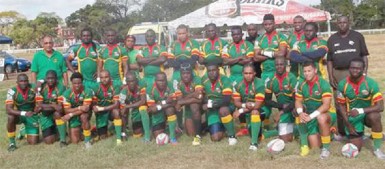 Tries by Claudius Butts, Vallon Adams, Avery Corbin and Thedore Henry along with conversions and penalty kicks from National Captain, Ryan Gonsalves enabled the local outfit to pull out the nail biting win.
To hold the host to just six points for the entire second half also said a lot of Guyana's defensive line.
According to reports from Atlanta, Wayne Sherman, Matt Houston and Cathal Doyle were the players on the score sheet for USA South.
The national team is scheduled to return later today hopefully to a hero's welcome.
As the FIFA World Cup fever heats up Brazil and the rest of the globe, the Guyana Rugby Football Union officials were quick to point out, that the national rugby team is now ranked higher than its counterpart.
Despite this fact the team was still scrambling for funds to cover the cost of meals.
Like several other "minor" sporting branches in Guyana, rugby suffers from a lack of funding that is holding back its development and blocking the game from breaking into the local mainstream sporting mentality. With Guyana's win yesterday it should send a clear message both to the rugby world and to decision makers here in Guyana. (Emmerson Campbell)