Williams claims first National Road Race c/ships
Geron Williams claimed his first National Road Race Championship yesterday with a photo finish victory after staving off a fast closing Marlon 'Fishy' Williams on Homestretch Avenue.
The Team Continental rider, who will quickly turn his attention to next month's Commonwealth Games, was part of a thrilling finish to the grueling 100-mile event after holding off his namesake and defending champion, Raynauth Jeffrey.
"For me right now it's a surreal moment," said Williams. "It's unbelievable! I'm just happy to win this race today. I still can't really believe it but it's good for the first time that I won the road race title. It's something that I've wanted for a while it evaded me in 2012 but I'm glad I have it now."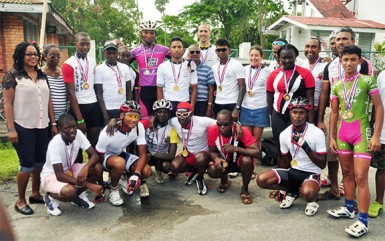 The 23-year-old was made to work hard for his victory, with Williams along with Jeffrey and Paul DeNobrega attacking in the final stages after a nine-man lead group had emerged off of the Linden/Soesdyke Highway.
DeNobrega missed out on a medal after failing to keep up with the pace as the race reached its climax on the home straight.
Victory for Williams should prove the ideal preparation for his Commonwealth Games campaign in Glasgow, Scotland next month.
After a pedestrian start on Homestretch Avenue, the race did not have much talking points until Team Coco's Hamza Eastman broke away from the peloton in the hills of the Linden's Highway and established a gap, which reached two minutes at its peak.
Geron Williams being the work horse that he is managed to bridge the gap with Jeffrey, DeNobrega, Marlon Williams and others in tow.
The nine-man break then journeyed to Providence but three riders were dropped from the pace set by Geron Williams who said he had to stay with the likes of Marlon Williams and Jeffrey, his Commonwealth Games teammates in order to give himself a chance of winning.
With about 250m from the finish, Williams rolled up the sprint, 'Fishy' responded but was just could not catch his fellow national rider before the line.
Distaff Side
UK based, Claire Fraser Green who won the Time Trial Championship on Saturday, took the champion's jersey for the road race after easily out pedaling Toshwanna Doris and Crystal Lambert.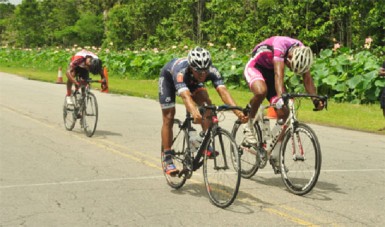 Quick Results
Seniors
Geron Williams
Marlon Williams
Raynauth Jeffrey
Juniors
Stephano Husbands
Akeem Arthur
Alonzo Ambrose
Females
Claire Fraser Green
Toshwanna Doris
Crystal Lambert
Veterans Under 45
Stephen Fernandes
Veterans Over 45
Raymond Newton
Note: Yesterday's 100-mile road race was the longest ever one-day event in cycling history. (Emmerson Campbell)