Mary Fung-A-Fat, Alex Arjoon national squash champions
Mary Fung-A-Fat and Alex Arjoon were crowned national female and male open champions when the Guyana Squash Association (GSA) Digicel National championships concluded on Sunday at the Georgetown Club squash courts.
Fung-A-Fat defeated Akeila Wiltshire in straight sets. Racing to a 1-0 lead following an 11-5 win in the opening set, Fung-A-Fat would double her advantage as she claimed the second set 11-8. She would then clinch the title, winning the third set by an 11-9 margin.
In the male section, Arjoon survived a shaky 6-11 opening set loss to overcome Richard Chin. Levelling the scores at 1-1 after clinching the second set 11-8, Arjoon would take the lead for the first time in the matchup, winning the third set 12-10.
He would then retain his title in the fourth set as he won 11-6. In the third place Men's Open playoff, Jason Ray Khalil defeated Nyron Joseph 11-4, 7-11, 11-9 and 11-7 while on the distaff side, Ashley DeGroot clinched the third spot by defeating Larissa Wiltshire 11-6, 11-4 and 11-4.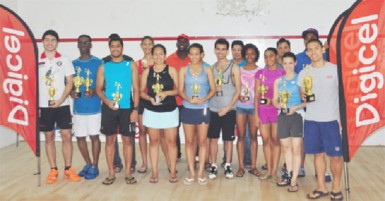 In the Men's Classic Plate, Deje Dias walked away with the title, defeating Ben Mekdeci 13-11, 11-8, 8-11 and 11-3 while Nicholas Narain clinched the third position via a walkover victory against Regan Pollard.
Victoria Arjoon walked away with the Women's Plate title by defeating Kathy Ten-Pow in straight sets 12-10, 11-5 and 11-9. Taylor Fernandes claimed the third spot by defeating Alysa Xavier 12-10, 11-2 and 11-6.  In the Men's Plate division, Alec Melville walked away with the title, defeating Oliver Kear-Downes, compliments of a walkover. Joe Mekdeci was crowned the Men's Veterans 35-49 division champion, overcoming Alwyn Callender 8-11, 11-2, 11-7, 6-11 and 11-9.
the third place matchup, Brian Yong defeated Medhi Ramdhani 11-9, 11-8, 5-11 and 11-9. In the battle for the fifth position, Stephen Fernandes defeated sibling Philip Fernandes 8-11, 11-9, 11-3 and 11-9.
Upon the conclusion of the event, Digicel representative Gavin Hope presented the respective trophies to the divisional winners.
He also congratulated the GSA for the hosting of a well-organized tournament as well as informed the gathering that the company is committed to partnering with the GSA for another three years.