High hopes for Junior Jaguars
Bryan Joseph, coach of the National Under-17 football team is optimistic of his charges' chances ahead of their Caribbean Football Union (CFU) Under-17 Championship campaign.
Before their scheduled departure this morning for the Dominican Republic, Joseph told the media yesterday at the Windjammer Hotel that he is "enthused by the level of commitment shown by the players during their time spent in preparing for the tournament" and was optimistic of the team being successful starting with Friday's match.
However, Joseph noted that one wrinkle in the outfit was the inadequate time to prepare but in the same breath, the former national player stated that there will be no excuses and he expects his side to play with pride and perform at the optimum level.
Dubbed the 'Junior Jaguars', Guyana will play Barbados, Antigua and Barbuda and the host in the Group D fixture where two teams will advance to the next round.
Joseph will be hoping that the Jaguars roar.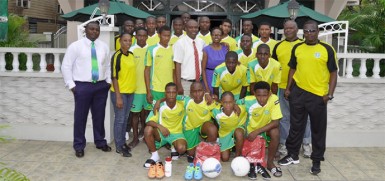 The national coach also highlighted that he was happy with the selection of the players and asked of them to give 100% on the field.
Meanwhile, president of the Guyana Football Federation (GFF) Christopher Matthias opined that the players selected represent a new generation of the Golden Jaguars who will begin the rebuilding campaign for the country's national programme.
Since Matthias took office last year, he has been keen on restructuring the country's football amidst calls to have the senior national team back in action.
On Friday, Guyana opens its campaign against Barbados.
The locals will tackle Antigua on July 20 and then will wrap up their group stage match against the host on July 22.
The squad reads: Quazim Yusuf and Dwayne Thomas; Defenders: Randy Hohenkirk, Seon Barrett, Tariq Nelson, Teffon Alexander, Shomol Smith, Jeremy Garrett; Midfield: Kevin Layne (Captain), Job Caesar, Brian Thom, Gerald Sobers, Maurice Barnes; Forward: Keno Washington, Shamar Blair and Joel Dick.
Brian Joseph (Head Coach), Chevon Monchoir (Assistant Coach), O'Neil Heywood (Goalkeeper Coach), Charlene Henry (Physiotherapist)