Kwakwani Secondary clinches three basketball titles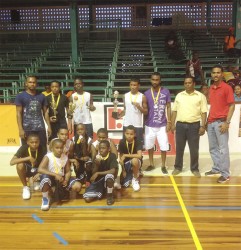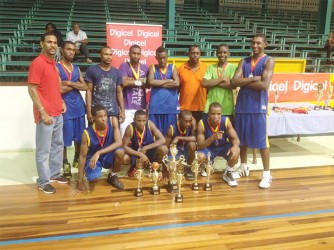 Kwakwani Secondary solidified their status as the leading secondary basketball institution, claiming three out of a possible four national titles when the Youth Basketball Guyana (YBG) schools festival concluded on Sunday.
Hosted at the Cliff Anderson Sports Hall, Kwakwani Secondary walked away with the u-19, u-14 and female divisional crowns while they were defeated in pursuit of the  clean sweep in the u-16 title match.
Kwakwani Secondary clinched the u-19 title, defeating Plaisance Academy by a 73-59 score line. Divisional most valuable player (MVP), Leonard Primo led the way with a  double-double of 29 points and 18 rebounds.
He was supported by Shafeeq Thomas who shot his way to 12 points while picking up four rebounds and three steals. Leading the East Coast of Demerara outfit with 14 points and seven rebounds was Kelvin Yorrick.
Kwakwani Secondary continued their dominance as they clinched the u-14 title, defeating Marian Academy 30-29. Keith Adams, who was adjudged the division's MVP led the winners with figures of 10 points, 13 rebounds and three steals.He was assisted by Anfernee Anderson who netted five points and collected eight rebounds, three steals and as many assists. Joshua Brazoa led the losers with 11 points, 12 rebounds, three assists and nine steals while Jahleel Young contributed six points and 22 rebounds.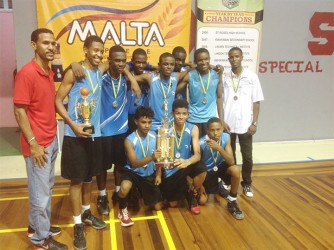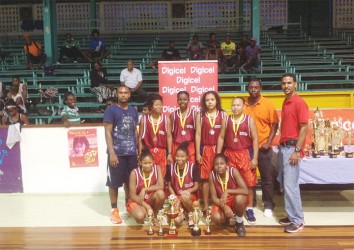 In the female section, the Kwakwani ladies defeated both St. Stanislaus College and St. Rose's High by a combined 70 points to zero to clinch the title. MVP of the division Jenelle Belle led the champs as she averaged 10 points, four rebounds and three steals.
She was assisted by the division's leading scorer Makeida Rogers, who averaged 12 points per match. St. Stanislaus College claimed the second spot after defeating St. Rose's by a 10-6 score line.
In the u-16 section, St. Rose's High were crowned divisional champ, blowing out Kwakwani Secondary 85-64.
MVP of the section Nathan Saul once again led the Church Street unit with an impressive shooting display of 39 points while collecting seven rebounds and six steals. Assisting in the win with figures of 13 points and 10 rebounds was Mark July. Leading the losers with an impressive double-double of 32 points and 19 rebounds was Domair Gladstone.
In the special award section, Bishops' High was adjudged to be the Best Uniformed Team while Best Emerging Team, Best Administration and Best Fan Support went to Bishops' High, Deborah Solomon (Bishops' High) and New Amsterdam Multilateral respectively.
Courtney Taylor of St. Rose's High won the Best Coach award while Patrice Agrippa, Marian Academy and Jonathan Pooran collected the Individual Sportsmanship, Team Sportsmanship and Senior Class awards respectively.
The final presentations saw Timothy Thompson (Bishops' High), Edmare Semple (New Amsterdam Technical Institute), Jamal Gilkes (Kwakwani Secondary), Jahleel Young (Marian Academy) and Kemmol Benjamin (Kwakwani Secondary) being awarded standout player titles.